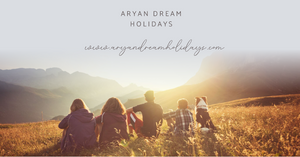 The Top 10 Family-Friendly Holiday Destinations in India/Asia for 2023
Introduction: Planning a family vacation can be an exciting yet challenging task. With so many incredible destinations to choose from, it's important to find the perfect balance between adventure, relaxation, and family-friendly attractions. In this article, we will explore the top 10 holiday destinations in India and Asia for 2023, offering you valuable travel tips and insights to help you plan an unforgettable family getaway. Whether you're seeking cultural experiences, natural wonders, or thrilling adventures, these destinations are sure to cater to your family's diverse interests and preferences. For exclusive holiday packages and expert assistance, visit www.aryandreamholidays.com.
Bali, Indonesia: Known as the "Island of the Gods," Bali offers an enchanting blend of stunning beaches, lush rice terraces, vibrant culture, and thrilling water sports. Explore ancient temples, witness traditional Balinese dance performances, or simply relax on pristine beaches while your kids build sandcastles.

Tokyo, Japan: A perfect blend of modernity and tradition, Tokyo offers an abundance of family-friendly attractions. Visit Tokyo Disneyland and DisneySea, explore the fascinating neighborhoods of Akihabara and Harajuku, and indulge in delicious street food while wandering through bustling markets.

Kerala, India: Located in southern India, Kerala is renowned for its tranquil backwaters, verdant landscapes, and diverse wildlife. Enjoy a serene houseboat cruise, take part in a Kathakali dance performance, and embark on a thrilling safari at Periyar National Park.

Phuket, Thailand: Phuket is a tropical paradise that caters to families seeking sun, sand, and sea. From relaxing on stunning beaches to exploring vibrant markets and enjoying water sports like snorkeling and kayaking, Phuket has something for everyone.

Jaipur, India: Known as the "Pink City," Jaipur offers a fascinating glimpse into India's rich history and culture. Visit the majestic Amber Fort, admire the intricate architecture of Hawa Mahal, and shop for traditional handicrafts at bustling bazaars.

Singapore: Singapore is a dynamic city-state that seamlessly blends modernity with nature. Explore the iconic Gardens by the Bay, visit the world-famous Singapore Zoo, and experience thrilling rides at Universal Studios Singapore.

Goa, India: Goa is a popular beach destination that offers a perfect mix of relaxation and adventure. Relax on the sandy shores, try water sports, explore colonial architecture, and savor delicious seafood. Don't miss the vibrant night markets and lively beach parties.

Langkawi, Malaysia: Langkawi is a picturesque archipelago with stunning beaches, lush rainforests, and clear turquoise waters. Take a cable car ride to Langkawi Sky Bridge, explore the mangrove forests, and indulge in duty-free shopping.

Udaipur, India: Known as the "City of Lakes," Udaipur is famous for its enchanting palaces, serene lakes, and romantic ambiance. Take a boat ride on Lake Pichola, visit the City Palace, and witness traditional Rajasthani dance performances.

Hoi An, Vietnam: Hoi An is a UNESCO World Heritage site known for its well-preserved ancient town and rich cultural heritage. Explore the lantern-lit streets, take a boat ride along the Thu Bon River, and try your hand at traditional lantern making.