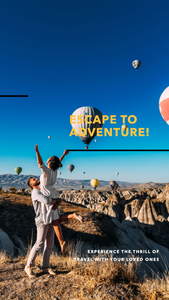 The Top 10 Family-Friendly Holiday Destinations for 2023
Planning a family vacation can be a daunting task. With so many places to choose from, it can be hard to find a destination that offers something for everyone. But don't worry, we've got you covered. Here at www.aryandreamholidays.com, we've compiled a list of the top 10 family-friendly holiday destinations for 2023. These places offer a mix of adventure, relaxation, and most importantly, fun for the whole family.
Orlando, Florida: Known as the theme park capital of the world, Orlando is a dream destination for kids and adults alike. With attractions like Disney World, Universal Studios, and SeaWorld, there's no shortage of fun to be had. Plus, our holiday packages make it easy to plan your trip.

Costa Rica: If your family loves nature and adventure, Costa Rica is the place to be. From zip-lining through the rainforest to spotting wildlife in the national parks, Costa Rica offers a unique and exciting experience.

Rome, Italy: For families who love history and culture, Rome is a must-visit. The city is like a living museum, with ancient ruins, stunning architecture, and delicious food. Our travel tips include visiting the Colosseum early in the morning to avoid the crowds.

Kyoto, Japan: Kyoto offers a mix of traditional and modern attractions. From ancient temples to manga museums, there's something for everyone. Plus, kids will love the monkey park and bamboo forest.

Gold Coast, Australia: With beautiful beaches, theme parks, and wildlife sanctuaries, the Gold Coast is a hit with families. Don't miss the chance to cuddle a koala at the Currumbin Wildlife Sanctuary.

Barcelona, Spain: Barcelona is a vibrant city with a lot to offer. From the whimsical architecture of Gaudi to the beautiful beaches, it's a city that both kids and adults will love.

Banff, Canada: If your family loves outdoor activities, Banff is the perfect destination. With stunning landscapes and activities like hiking, canoeing, and skiing, it's a nature lover's paradise.

Dubai, UAE: Dubai is a city of superlatives, with the world's tallest building, the largest shopping mall, and a host of family-friendly attractions. Kids will love the indoor ski resort and the Dubai Aquarium.

Copenhagen, Denmark: Home to the original Legoland and the beautiful Tivoli Gardens amusement park, Copenhagen is a great destination for families. Plus, it's known for being one of the happiest cities in the world.

Maui, Hawaii: With beautiful beaches, water sports, and the chance to explore a volcano, Maui is a great destination for families who love the outdoors.
Remember, when planning your family vacation, the most important thing is to have fun. Whether you're exploring a new city, relaxing on the beach, or going on an adventure, the memories you make will last a lifetime. Visit www.aryandreamholidays.com to explore our family-friendly holiday packages and get more travel tips for your next vacation.