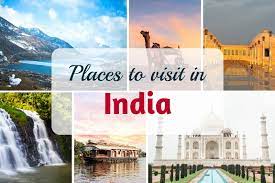 As the weather warms up in India in April 2023, it's the perfect time to start planning your next adventure. Whether you're looking for scenic landscapes, cultural experiences, or outdoor activities, India has something to offer for everyone. Here are some of the best places to visit in India in April 2023:
Ladakh - With its snow-capped mountains, pristine lakes, and rugged terrain, Ladakh is a dream destination for adventure enthusiasts. April is an excellent time to visit Ladakh as the roads open up, and the weather is pleasant.

Rishikesh - Located in the foothills of the Himalayas, Rishikesh is known as the "Yoga Capital of the World." It's the perfect place to escape the hustle and bustle of city life and reconnect with nature.

Darjeeling - If you're a tea lover, Darjeeling is a must-visit destination. The rolling hills covered in tea plantations make for a stunning view, and the weather is perfect in April.

Hampi - If you're interested in history and architecture, Hampi should be on your list. The ancient ruins of the Vijayanagara Empire are a UNESCO World Heritage Site and are sure to leave you in awe.

Andaman and Nicobar Islands - For those looking to escape the heat, the Andaman and Nicobar Islands are a perfect destination. The islands offer beautiful beaches, clear waters, and a chance to explore the underwater world through snorkeling and diving.

Jaipur - Known as the "Pink City," Jaipur is a vibrant and colorful destination that offers a glimpse into India's rich history and culture. The weather is perfect in April, and the city is home to numerous palaces, forts, and temples.

Goa - Known for its beautiful beaches, nightlife, and seafood, Goa is a popular destination for both domestic and international tourists. April is a great time to visit as the weather is perfect for sunbathing and water sports.
India is a vast and diverse country with something to offer for everyone. Whether you're looking for adventure, relaxation, or cultural experiences, the above list will surely help you plan an exciting trip to India in April 2023.
If you're planning a trip to any of these destinations in India in April 2023, Aryan Dream Holidays can help you plan and book your trip. With our commitment to customization, promptness, and maximum value addition, we'll ensure that your trip is everything you dreamed of and more.
From arranging transportation and accommodation to organizing guided tours and activities, we'll take care of all the details so that you can focus on enjoying your trip. To book your tour with Aryan Dream Holidays, give us a call now on 9408759274. Our team is excited to help you plan an unforgettable trip to India.