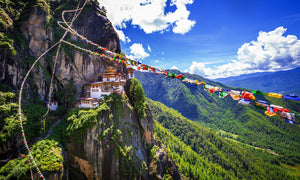 Inclusions
2Nights accommodation at Thimphu
1Nights accommodation at punakha
2Nights accommodation at paro
Daily Breakfast meal
Half Day Tour of Paro
Full day tour of thimphu
Half Day Tour Of punakha
All transfer on non ac vehicle
Airport Hotel Return Transfers on sic ( paro to paro )
All Hotel Taxes And Service Charges & Airport Taxes
GST 5% excluded  in Land package (LP)
Itinerary ::
Day 01 :: Arrive Paro airport. Transfer to Thimphu hotel ( Approx 65 kms – 1.15 hrs drive).
Pick-up from Paro airport & transfer to Thimphu ( Alt. 2400m/7875ft). Check in at the hotel.  Afternoon you can relax in the hotel or you can explore only outer view of Tashichho Dzong or you can visit Monk Body's block between 5:30-6:00 p.m ( In Summer) and between 5:00-5:30 p.m ( In Winter) ( Timing may change). Overnight in Thimphu.
Day 02 :: Thimphu sightseeing .
After breakfast proceed for sightseeing includes
National Memorial Chorten- This stupa was built in 1974 in the memory of Bhutan's third King, His Late Majesty, King Jigme Dorji Wangchuk, who is popularly regarded as Father of modern Bhutan
Buddha Point (Kuensel Phodrang), visitors can get a good overview of the Thimphu valley from here;
Chang Gangkha Monastery, the oldest temple in the valley;
Motithang Takin Preserve , preserve center of Takin - National Animal of Bhutan.  
Anim Dratsang (Nunnery) ; also called Thakcho Kunzang Choden Nunnery nunnery is located in Zilukha
Day 03 :: Thimphu to Punakha /Wangdue via Dochula pass ( Approx 70 kms / 2.30 hrs)
After permit  ( Permit is not issued on Saturdays, Sundays & Govt holidays) drive to Punakha/Wangdue, with a stop en route at Dochu La Pass ( 3,100 meters), where on a clear day you can get spectacular views of the highest mountains of Bhutan. After a photo break, drive to warm valley of Punakha. Visit Punakha Dzong ( Timing from 11:00 a.m to 1: 00 p.m and 3:00 p.m to 5:00 p.m) built at the confluence of the Po and Mo Chu Rivers in the 17th Century by Shabdrung Ngawang Namgyel and served as capital of Bhutan until 1955.  Also visit Sangchen Dorji Lhendrup Nunnery in Punakha. Overnight in Punakha/Wangdue. 
Day 04 :: Punakha /Wangdue to Paro ( Approx 160 kms / 4 hrs)
After breakfast drive to Paro ( Alt. 2200 m/7,300 ft ). On the way enjoy the view of Shaba River Point and Paro airport view. Check in at the hotel.. Overnight in Paro.
Day 05 :: Paro Sightseeing
After breakfast proceed for sightseeing  includes  
Ta Dzong (National Museum) ( open throughout the week except Govt. Holiday . Timing: from 9:00 a.m to 4:00 p.m ) - the first of its kind which has a collection from natural history to religious paintings and then walk down the trail to visit Rinpung Dzong (also known as Paro Dzong) which has a long and fascinating history.  Afternoon proceed for sightseeing   includes  Drukgyel Dzong, the ruined fortress from where Bhutanese repelled several invasion by Tibetan armies.  Later visit Kyichu Lhakhang, one of the oldest and most sacred shrines of the Kingdom. Evening stroll at Paro town and peep into some local handicrafts stores.  Return at hotel. Overnight at Paro.
Day 06 :: Depart Bhutan. Tour Ends
After breakfast drop to Paro airport.
Package Cost :: Per Pax  in INR [ RATES VALID FOR INDIAN NATIONAL] 
Package Type

Min. 02 pax

Min. 04 pax

Min. 06 pax

Adult/Child with Extra bed

Child without bed

( Below 10 yrs)

Standard

24,250

19,650

17,500

12,900

8,500

Superior

32,400

27,400

27,250

17,400

10,500

Deluxe

27,500

22,800

21,600

15,900

10,000
 Hotels Recommended Or Similar
Destination

Superior Package

Deluxe Package

Standard Package

Thimphu

 

Hotel Migmar/

City Hotel

Peaceful Resort/Hotel Amodhara/Hotel Riverside

Hotel Taktsang/Nirmal Lodge/Hotel Santideva

Punakha

Puna Cottage /

Kyichu Resort

Meri Puensum Resort/

Pema Korpo

Kingaling Hotel /

Hotel Kinten similar

Paro

 

Kichu Resort/Tashi Namgay Resort/

Tenziling Resort

Yanki Resort/Rema Resort/Mandala Resort

City Hotel/

Town View Resort
Excludes:
Any expenses of personal nature such as tips, laundry, telephone calls, fax etc.
Entry fees, Guide
Any kind of drinks (Alcoholic, Mineral, Aerated), Room service & additional meals.
Any expense incurred or loss caused by reasons beyond our control such as bad weather, natural calamities (landslides, rainfall), flight delays / rescheduling / cancellations, any accidents / medical evacuations, riots/strikes/war, & etc.
Any expenses incurred on extra transport, apart from the ones covered in the package.
Extra costs that may arise due to prolonged delays or postponement of flights due to technical reasons/acts of nature/ government regulations or any other conditions whatsoever, which are beyond the our control .
Personal expenses, tips and donations, insurance against loss of baggage, damage, theft of personal items/ belongings, medical expenses if any and emergency evacuation if needed.
Air fare/Train Fare, Airport taxes, poterage charge at the airport & railway station, tips etc
Note: Immigration counter at Pheuntsholing will be closed on Saturday, Sunday and Govt. Holidays.  Day 2 should be from Monday to Friday and on working day. Kindly plan your travel dates accordingly.
Alternatively, all pax should have valid passport and guide should be taken for Bhutan part ( Rs. 1500 per day ), then advance entry permit can be issued and pax can travel in Saturday, Sunday & Govt. Holiday.
IMPORTANT INFORMATION:
Ø  Local Time: Please inform Guest to adjust their watches and make 30 minutes ahead of IST (Indian time) as Drivers will be following Bhutan time not Indian time + Bhutan Sightseeing points will also follow their country timing  if they don't do so then there may be miscommunication.
Ø  The Bhutanese authorities strictly monitor export of cigarettes  as Bhutan is non-smoking country however visitors can smoke at private places only and when they carry the same has to inform the authority that they are carry Cigarettes and for the same they will have to pay the tax (Smoking at Public places/vehicle is punishable)
Ø  Please inform Guest  that when they are visiting Dzong (for all Dzong) Guest must put all full sleeve cloths & shoes, Guest wearing half sleeve cloths & sandals are not allowed to enter Dzong & also must avoid head caps while visit Dzong. No photography is allowed inside temples and Dzong.
Ø  Documents required for Indian National : Identification Required for Bhutan ( for Indian national ) : Valid Passport or Election ID Card ( Voters Card ) issued by Election Commission of India.  For children ( upto 15 yrs) travelling with their parents -   school ID proof, birth certificate copy. Also carry 02 copies passport size photo and photo copy of original ID proof of each pax.
Ø  Currency: The Bhutanese unit of currency is the Ngultrum (Nu.). The Ngultrum is pegged to the value of the Indian Rupee. Though Indian Currency is legal tender in Bhutan, denominations of 1000 is not accepted. Please note that while very few businesses in Thimphu accept credit cards (only Visa) and there are few ATMs in Thimphu & Paro town. But for using credit card/ATM transaction charges are very high. It is better to carry cash. Indian National can carry INR upto one lac per pax and foreign national can carry USD 10,000 Per pax without declaration.
Ø  Visitors are advised to be cautious in purchasing old and used items. Customs authorities will not allow any old/used items to be taken out of the country if they have not been certified as non-antique.
Ø  SIM card : When you arrive in Bhutan ( At Phuentsholing border or Paro airport), you can purchase a SIM card ( Tourist prepaid SIM card valid till one month) for your phone and then be able to tap into the local network. Domestic and international calls will likely be far cheaper than using your own phone on your current plan. When you add the new SIM card, this phone will be assigned a phone number that you can then share with your family at home and they can call you directly .
Ø CUSTOMS: The following articles are exempt from duty:
(a) Personal effects and articles for day to day use by the visitor
(b) 1 litre of alcohol (spirits or wine)
(c) 200 cigarettes ( Only for above 18 yrs), on payment of import duty of 200%
(d) Instruments, apparatus or appliances for professional use
(e) Photographic equipment, video cameras and other electronic goods for personal use. You have to complete the passenger declaration form at your port of entry.
Visitors are advised to be cautious in purchasing old and used items, especially of religious or cultural significance, as such items may not be exported without a clearance certificate.
If importing any items to Bhutan which are for sale or gift, they may be liable for customs duty. On departure, visitors are required to fill out a departure form, which will be asked for by Customs authorities.
Import/export of the following goods is strictly prohibited:(a) Arms, ammunitions and explosives (b) All narcotics and drugs except medically prescribed drugs
(c) Wildlife products, especially those of endangered species
(d) Antiques
Imports of plants, soils etc. are subject to quarantine regulations. These items must be cleared on arrival.
Ø  Permits:
On Arrival Permit has to be obtained at Paro International Airport for tourist travelling by Air or at Phuentsholing border while travelling by road.
Permit issued from Phuentsholing & Paro is Valid for Thimphu & Paro Only. For Indian National ,Bhutan entry permit is given maximum for 7 days and it can be extended upto 30 days and extension of permit can be done from Immigration Office Thimphu.
Special Permit for Punakha, Wangdue, Phobjika, Trongsa, Bumthang, etc. is issued from Department of Immigration Office Thimphu.
Department of Immigration Office Thimphu is Closed on Saturday, Sunday & National Holidays.
Department of Immigration Office Thimphu may remain closed without prior Notice & immediate declaration of Holidays.
Permit procedure at Department of Immigration, Phuentsholing may take time and guest should keep the patience untill the permit is done.
Please Note:
The tour cost is not refundable at any cause, once tour starts. No refund on un-utilized services of the packages. Places / sites not visited as per the given tour route of the day, the same spot will not be revisited on guest's request except on extra payment.
The tour guide/driver reserves the rights to make changes/detour or omit any place of visit, if it becomes necessary due to bad weather, bad road, strike or band and security reason
Tourist will carry their luggage at own risk and responsibility.
Early check in & late checkout is subject to availability and on extra chargeable basis
Itinerary may change due to any climatic condition / non availability of rooms /other natural circumstances.
Driver is not the guide. He may assist the guest but one should not expect the same service like professional guide . Driver may not be fluent in International standard English language.
In case any emergency reason or untoward incidents  if same transport is unable to go , alternative arrangement will be there and it may take time to recover the same transport . Guest's co operation, patient, flexibility is highly expected during this kind of situation.   
The infrastructure of that sector is not very advanced & one should not expect & match the facility with the city & other developed destinations. Flexibility is the whole philosophy of this type of tour. One requires and allows on trip alternatives due to untoward reasons.
Supplement Meal Cost:
Superior        700 @ /- Per Meal ( Lunch / Dinner )
Deluxe           600 @ /- Per Meal ( Lunch / Dinner )
Standard       450 @ /- Per Meal ( Lunch / Dinner )
NOTE: Package cost may change any time if there is any hike in the hotel & transport rate/revision in Tax structure/ any up gradation of room category as per the room availability. Any Typo error in the above package details can be rectified later and you will be notified accordingly.