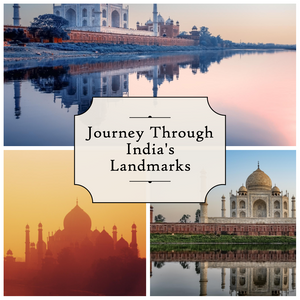 India Travel Packages: The Ultimate Guide to Planning Your Dream Trip
India is a land of contrasts, with a rich history, vibrant culture, and stunning natural beauty. It is a country that has something to offer everyone, from the ancient ruins of the Taj Mahal to the bustling streets of Mumbai.
Whether you're a history buff, a beach bum, or an adventure seeker, India has something for you. With its diverse landscapes, fascinating cultures, and delicious food, India is a country that will keep you coming back for more.
Here are just a few of the amazing things you can experience in India:
Visit the Taj Mahal:

 

The Taj Mahal is one of the most iconic buildings in the world. It is a white marble mausoleum that was built by Mughal emperor Shah Jahan in memory of his wife Mumtaz Mahal.
Explore the Golden Triangle:

 The Golden Triangle is a popular tourist circuit that includes the cities of Delhi, Agra, and Jaipur. These cities are home to some of the most famous historical sites in India, including the Taj Mahal, the Red Fort, and the Amber Fort

Go on a wildlife safari: India is home to a wide variety of wildlife, including tigers, elephants, and lions. You can go on a wildlife safari to see these animals in their natural habitat.
Relax on the beach: India has a long coastline, so you can find beaches to suit your taste. Whether you want to relax on a secluded beach or party on a crowded beach, you will find it in India - like Goa including South / North Goa and more.
Journey to the hill stations: India is home to some of the most beautiful hill stations in the world. These hill stations are perfect for a relaxing getaway- like Ooty, Lonavala, Coorg & so many more.
Explore the backwaters: India's backwaters are a great way to experience the beauty of the country. You can go on a backwater cruise to see the lush green countryside and the beautiful backwaters - like Kerala.
Learn about the culture: India has a rich and diverse culture. You can experience this culture by visiting temples, mosques, and other religious sites. You can also experience the culture by attending festivals and tasting the local cuisine. - like Haridwar, Rishikesh & more.
Shop for souvenirs: India is a great place to shop for souvenirs. You can find everything from traditional handicrafts to designer clothes.
India is a country that has something to offer everyone. Whether you are looking for a relaxing beach vacation, an adventurous wildlife safari, or an educational cultural experience, you will find it in India.
Aryan Dream Holidays can help you plan the perfect India travel package. We offer a wide range of packages to suit all budgets and interests. Contact us today to start planning your dream trip to India.
India travel packages, India vacation packages, India sightseeing packages, India honeymoon packages, India family holiday packages, India luxury travel packages, India budget travel packages, India group travel packages, India customized travel packages, Aryan Dream Holidays