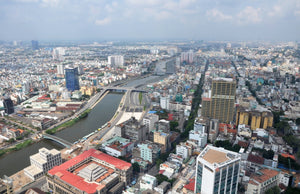 Day 1:
 Ho Chi Minh - Hotel (Ho Chi Minh City) :-On arrival at the airport, you'll be met by one of our representatives outside the exit gate. Just keep a look out for a friendly man holding a placard with your name on it. The representative will take you to your car, from where you'll be whisked off to your hotel.
Day 2:
HCM Half Day Tour (Ho Chi Minh City):- Your local guide will collect you from your accommodation in Ho Chi Minh City for a half day city sightseeing tour in a private vehicle. The vehicle and your local guide will be at your disposal within the city limits for the duration of the service. You can expect your local guide to have a good overall knowledge but if you require exceptionally in-depth commentary, this may not be possible. And will be happy to discuss any specific requirements with you and at the end of the tour, will either arrange for you to be returned to your accommodation in Ho Chi Minh City, or for you to remain in the city to explore further at your leisure.
Day 3:
Hotel - Ho Chi Minh (Ho Chi Minh City):- The driver will take you to the airport for your flight. We recommend you depart for the airport four hours before an international flight and three hours prior to a domestic one.
Inclusions:
2 Night's accommodation in Ho Chi Minh City at the Hotel Ibis Saigon South
Sightseeing tours and airport transfers as per the itinerary will be on private basis
Inclusive of all current applicable taxes
Exclusions:
Peak/festival period surcharge
Beverages NOT included in the quotation
Visas &Airfare
Entrance Fee (unless specified)
Driver &Guide Tipping
Early Check-in
Late Check-out
Luggage truck &Porter
50% supplement for arrival/departure transfer between 2200 hrs - 0700 hrs
If City / Resort Fees / Tourist taxes are applicable then the same will be Payable directly at hotel /Apartment.
Hotel accommodation for this tour:
Hotel which have been tested in the past by us and are good value of money.
 

City

Selected Hotels
Room Details
Meal Plan
Amenities
Ho Chi Minh City
Hotel Ibis Saigon South (3 Star)
Room#1:  Double Standard
BED AND BREAKFAST

The content is not 

available
Vehicle for this tour:
| | |
| --- | --- |
|  Type | No. of Vehicles |
| Medium Car or Similar | 1 Vehicle |
Terms & Conditions:
Hotel standard Check-In / Check-out time varies from destination to destination, 1200 hrs or 1400 hrs or 1500 hrs
Maximum waiting time at the airport shall be 60 - 90 minutes from the touchdown of the flight.
Prices are dynamic and subject to change unless the booking is put on hold-On time limit basis or vouchered. Rates include only those items specified in your itinerary.
Refund strictly as per the cancellation policy given.
Package rates are valid for the selected travel dates only and for the room category and other services, specified.
The guests are requested to follow the rules and regulations of the resort / hotel where they are accommodated
Request guests to be punctual for all tours and transfers. Maximum waiting time shall be 05 minutes for SIC and 10 minutes for Private
Inter connecting rooms/Adjacent rooms/Rooms on same floor /rooms near to each other, Smoking /Non-smoking rooms / are strictly subject to availability
For any amendment requests while on tour, please request your guests to contact you or our local emergency numbers and the request shall be subject to availability, with/without any supplement charge.
Shorter-stays than the booked stay and early check-out will be regarded as cancellation and hence no refund will be provided for any un-utilized service/s.
No amendments (name changes , date changes, hotel change etc) will be done once the booking is Vouchered. Any changes possible will be done offline, subject to any cancellation / rebooking / additional charges (as applicable).
We do not hold any responsibility for additional cost or adjustment which may arise as a result of events beyond our control, such as technical problems with means of transportation, changes imposed by re-scheduling or cancellation of flights by an airline/train, political disturbances, natural disasters, bad weather or terrorist activity etc. Also, any subsequent increase in the cost, which may arise from the increase of fuel price, govt taxes or accommodation charges shall have to be charged additionally
We shall have no legal liability for any loss, damage, personal injury arising directly or indirectly from any aspect of your Holiday.
Journey undertaken by air, land or sea is governed by the terms and conditions of the service provider.
The guest booking our services is expected to provide a valid identity authenticating the person and you shall not make a reservation in a fictitious name.
Showing around all the places mentioned in our packages depend upon the availability of time and climatic conditions
Rates are Net and non-commissionable, unless any separate confirmation has been given in writing by any of our authorized staff or account manager
It is the responsibility of the guest to carry all necessary travel documents such as accommodation voucher / confirmation, passport, other valid identity proof, flight/air tickets etc.
In the unfortunate event of vehicle breakdown, we will provide you alternate vehicle. However, the time loss due to event will not be compensated.
At Religious place like Mosque please wear decent clothing covering all your body &At the time of visiting any Theme park please wear comfortable clothing etc
Rates quoted are based on currency displayed and for specified no. of persons
Rates are subject to change without prior notice, unless the booking is put on "Hold" on time limit basis or "Vouchered"
In case of any immigration/Visa complications, the cancellation policy shall be applicable in full
Please note that pick-up for all transfer and tours will be done as per the details in the Tour Briefing Sheet. This document is shared closer to the date of travel and all guests must carry the Tour Briefing Sheet during their travel.
Insurance is not covered in the package so please cover yourself with an insurance at your own cost before travelling on a package tour
Transfer in Between 1900 Hrs to 0700 50% of transfer Supplement will be charged