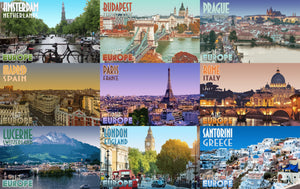 Europe is a dream destination for many travelers around the world, and for those traveling from India, the experience can be nothing short of magical. With its stunning architecture, rich cultural heritage, diverse cuisine, and breathtaking landscapes, Europe offers something for everyone. If you're planning to travel to Europe from India, Aryan Dream Holidays can help you make the most of your journey.
At Aryan Dream Holidays, we specialize in creating custom Europe tour packages that cater to the unique preferences and interests of our clients. Our team of experienced travel experts can help you plan an itinerary that includes the most popular tourist attractions as well as hidden gems that are off the beaten path. From exploring the historic streets of Paris and the romantic canals of Venice to hiking through the Swiss Alps and indulging in local delicacies in Barcelona, our Europe tour packages are designed to give you an unforgettable travel experience.
One of the biggest advantages of traveling to Europe from India with Aryan Dream Holidays is that we take care of all your travel arrangements, including flights, accommodation, transportation, and sightseeing tours. This means that you can sit back, relax, and enjoy your journey without having to worry about the logistics. We also provide 24/7 customer support throughout your trip, so you can rest assured that we're always there to assist you in case of any issues.
Moreover, we understand that the ongoing COVID-19 pandemic has raised concerns for travelers, and we have taken steps to ensure the safety and wellbeing of our clients. We follow all the recommended guidelines and protocols issued by the local authorities and provide our clients with necessary information and assistance regarding COVID-19 regulations and travel requirements.
So, if you're looking to explore the best of Europe from India, contact Aryan Dream Holidays today on 9408759274 or visit www.aryandreamholidays.com. Let us help you create unforgettable memories that you'll cherish for a lifetime."