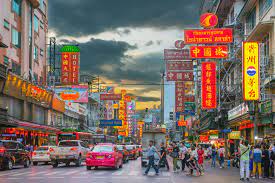 Bangkok is a bustling city full of energy and excitement. With its rich culture, delicious food, and beautiful temples, it is a must-visit destination for any traveler. If you are planning a trip to Bangkok, here are some travel tips to make your experience unforgettable:
Getting There: Bangkok is served by two airports: Suvarnabhumi Airport and Don Mueang Airport. Suvarnabhumi is the main airport, serving international and domestic flights, while Don Mueang serves mostly domestic flights and some international flights. Flights to Bangkok are available from major cities around the world, and once you arrive, there are many options for getting around the city.
Accommodation: Bangkok offers a wide range of accommodation options, from budget hostels to luxury hotels. Some of the most popular areas to stay in include the Sukhumvit, Silom, and Siam neighborhoods. These areas offer easy access to shopping, dining, and transportation options.
Things to Do: One of the must-visit attractions in Bangkok is the Grand Palace, which is home to the famous Temple of the Emerald Buddha. This magnificent temple is a must-see, with its beautiful architecture and intricate details. Another popular attraction is the floating markets, where you can find unique souvenirs and enjoy delicious street food. You can also visit the Chatuchak Weekend Market, the largest outdoor market in Thailand, which offers a wide range of products including clothing, accessories, and handmade crafts.
Food: Bangkok is known for its delicious food, with a wide range of street vendors, restaurants, and cafes to choose from. Some of the must-try dishes include pad Thai, tom yum soup, and mango sticky rice. You can also find many vegetarian and vegan options, and don't forget to try the fresh fruit smoothies and Thai iced tea.
Transportation: Bangkok has an extensive public transportation system, including the BTS Skytrain, MRT subway, and public buses. Taxis and tuk-tuks are also widely available, but be sure to negotiate the fare before getting in. For a unique experience, try taking a boat along the Chao Phraya River, which is a great way to see the city from a different perspective.
In conclusion, Bangkok is a vibrant city full of culture, history, and excitement. With its delicious food, beautiful temples, and unique shopping experiences, it is a must-visit destination for any traveler. Start planning your trip now, and experience all that Bangkok has to offer!
You can contact Aryan Dream Holidays for your dream holidays to Bangkok